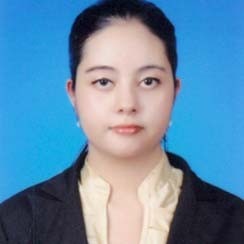 About me:
With strong communication, organizational, and management skills, I am confident that I can be a valuable asset to the team. I feel that my background in ESL education, ability to assimilate new ideas and concepts, and dedication to work would be of great benefit as well. I would welcome the opportunity to work with your team and look forward to hearing from you in the near future. Thank you for your time and consideration.
Sincerely,
Sucharee Sinthukiow
Experience
2009 – 2011 at Indian Overseas Bank 
Position: Customer Relation Officer
Responsible for outward remittance, safe lockers, opening account both current and saving for  customers, reporting documents to Bank of Thailand and most important of all maintaining good relationships with the customers and fulfill their needs and requirements.
Representative of Indian Overseas Bank to attend important meetings with Bank of Thailand and  AntiMoney Laundering Office (AMLO) held by the government of Thailand.
2012 - 2017 at Ekamai International School
Position : IEL ( Intensive English Language) Teacher 
Planning, preparing teaching materials, and delivering lessons. 
Help students improve their speaking, listening, reading and writing skills via individual and group sessions.
Checking, assessing students' work, organizing and running specialist courses.
2018- Currently at Siam University
Position : Head of Visa Department
Communicate with the Embassy and Immigration Bureau regarding visa for international students.
          Help international students to communicate with other Thai staffs when faced with language barrier.
Education
2009-2012         Master degree at Chulalongkorn University, Faculty of 
                           Education TEFL Course
2004-2009         Bachelor degree at Mahidol University International College, Tourism and Hospitality 
                           Management       
1996-2003          Mussoorie International School, India
Teaching Credential
   2013               TESOL Certificate, The TESOL Institute, Bangkok
Professionals who compete with Sucharee
Education / Training profesionals
Professionals from different sectors near Bangkok Yai, บางกอกใหญ่
Jobs near Bangkok Yai, บางกอกใหญ่
Found in: beBee S2 TH - 1 day ago

---

RGF HR Agent Recruitment

- Bangkok

Permanent

IT Support (25K-35K) (SDG-77693) · เจ้าหน้าที่ฝ่ายสนับสนุนด้านไอที · - Support accounting software · - Solve problems such as computer errors, help desk, support, etc. · - Contact suppliers, service providers and vendors for inquiries or maintenance · - Maintenance computers, too ...

Found in: beBee S2 TH - 4 days ago

---

RGF HR Agent Recruitment

- Bangkok

Permanent

Mold engineer Manager (Resin) (40K-70K) (SDG-79182) · ผู้จัดการวิศวกรแม่พิมพ์ (เรซิน) · - Manage and control Resin Mold division · - Plan for Production in molding department · - Manage Resin raw material inventory · - Manager Mold die maintenance · - Quality control for Mold p ...

Found in: beBee S2 TH - 5 days ago

---

Ref. 8095 · Responsibilities; · Check employee work standards to monitor functionality/ Durability/ Regulation of products (workpiece/parts) to prevent waste from falling into the next process and to communicate effectively. Guide and guide the correct work · ตรวจสอบมาตรฐานการทํ ...